Wednesday, May 7, 2014 at 7:59AM
It happens constantly…A customer calls us in to remove a virus and asks "Why didn't my antivirus software stop it?"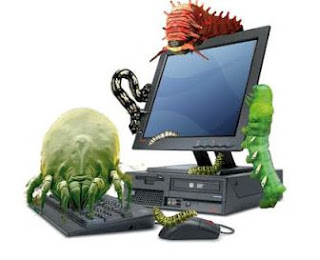 The answer is that while there are updates almost every day to antivirus software to block the latest viruses, the virus makers are updating their software just as fast or faster. If you click on a link or go to an infected website with a new virus, it gets in because often its newer than the antivirus updates and knows how to bypass any antivirus software.
We tell people that even if you have antivirus software running, if you click on a link in an email that leads to a virus, you're asking for the virus and will probably get it.
Recently Symantec, makers of Norton's Antivirus admitted that their software stops only 45% of virus attacks on the internet! (Full article at http://tinyurl.com/nortononly45)
We have explained what to do and not to do to avoid getting a virus previously at http://www.ineedbob.net/blog/2013/9/20/viruses-how-we-get-them-today.html
But often we get the call saying "I got a virus" but when we ask "Why do you think you have a virus?" Often the answer tells us they don't have a virus at all. Often it's just what is called malware or spyware or adware.
What's the difference?
Malware is a generic term meaning Malicious Software. Technically any software trying to do something you don't want it to do is Malicious but usually we use this to mean anything malicious that is not a virus.
A virus is software that spreads on its own. They look for computers on your network, when you plug in a memory stick or hard drive, sending itself automatically via email, etc. It can multiply over the internet and other ways all on its own. What it does when it's in your system can vary from steeling information, holding your computer random by demanding a payment to the virus writer before it will let you use your computer or access your files or even damage or erasing everything on your system.
Most "viruses" these days look like fake antivirus software. Telling you your computer is infected and you should upgrade the software by paying for it to protect your computer. But this software IS the virus and is often stealing information in the background, sending emails to everyone in your address book with copies of itself, and trying to spread.
It is important to know what antivirus software you have on your system so when its pops up you know it's real! (e.g. Microsoft Security Essentials, Malware Bytes, Norton's, McAfee)
Some FAKE examples look like this: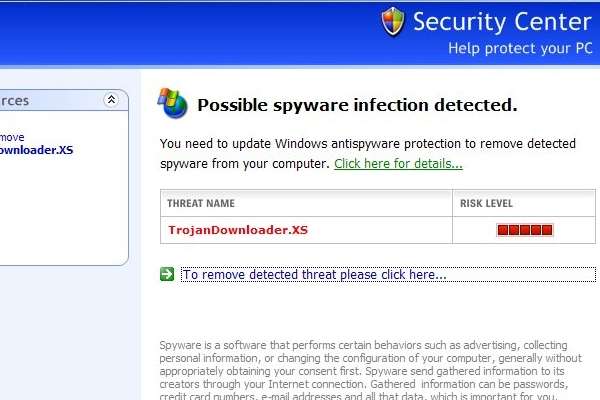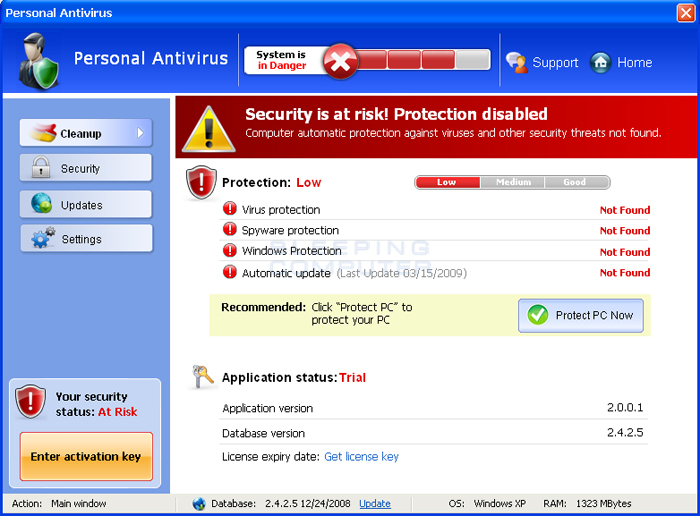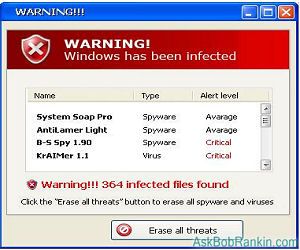 Spyware is simply software that is spying on you. It can be one of the above viruses or software that you don't even see, sitting in the background recording what you are doing like logging into your bank or email and sending what it sees and what you type back to the criminals who made it. Often once infected Spyware will immediately start copying files from your computer (Documents, pictures, etc.) and sending them over the internet instantly to a server out of the country were the criminals who made the software can browse through it at their leisure for any useful information. Find some personal pictures of you or your loved ones one day on google? Now you know how it got there!
Adware is the least harmful but often what people see the most of on their screen so they hate it the most as it interferes with normal use of your computer. It causes pop up ads; redirect you to a different search engine other than Google or what you intended to use; creates fake webpages, etc. You may search for a website and instead get ads for 10 similar sites but not the one you wanted. Often the adware writings are getting paid for displaying those ads to you, and that's why they use malicious means to get those ads in front of as many people as they can. Now Adware can be dangerous as it can also steal information but often it's just very annoying and renders your computer almost useless until it is removed.
Some examples of adware are as follows: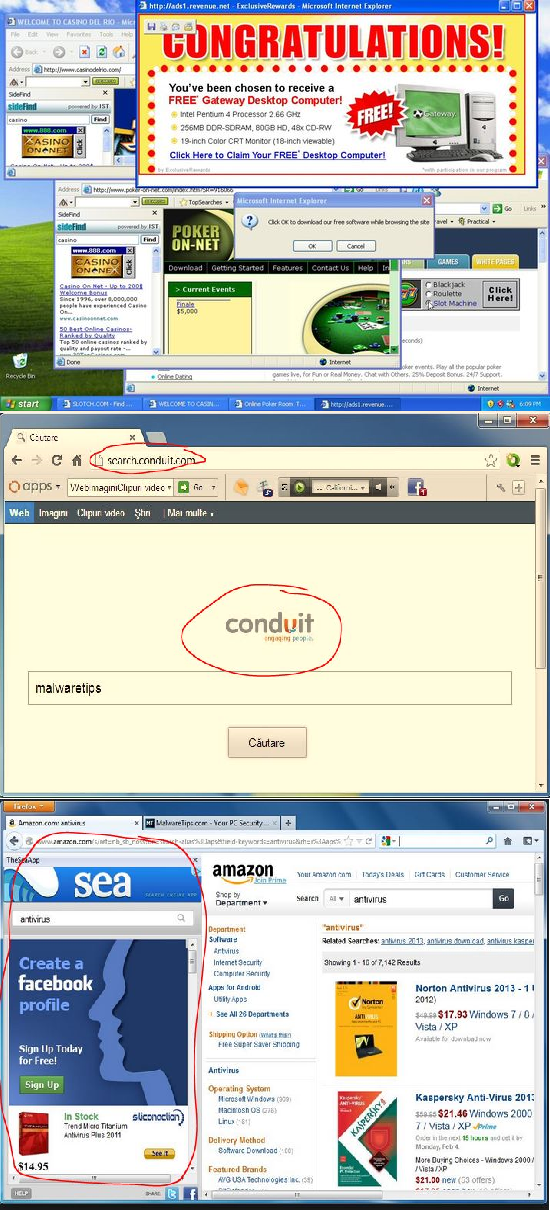 Now that you know what to look for, the important thing to remember is that once infected, with the speed how fast you can bring up a webpage on the internet, your information can be stolen and sent off to servers in China or Russia or else ware.
So when you see any of these problem, your first reaction should be to disconnect the Wi-Fi or Ethernet cable from your computer to try and prevent information from being stolen if you plan on dealing with it yourself, or Turn Your Computer OFF if on a company network or will need to call in an IT Professional to deal with it. These programs won't go away on their own and they will continue to steal information and dig themselves deeper into your computer over time making them harder to remove.

BobKaron
|

5 Comments
|

169 References
|