Friday, September 20, 2013 at 8:20AM
Viruses these days are usually obvious. They rarely hide in the background of your computer spreading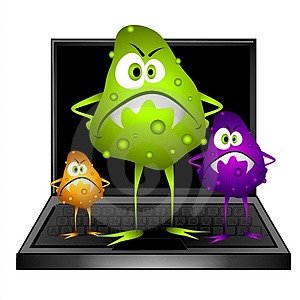 themselves. Today when you get a virus you usually know it because your computer is almost always totally unusable. It may have constant pop-ups preventing you from doing anything useful or it may be a fake warning from the FBI that illegal activity has been detected on your computer and you can pay the fine online. Often suggesting you go to a major retail store to buy Visa cards to use for the payment. Sometimes they even hold your computer for ransom by encrypting your files so you cant use them asking you to pay to get your files back.
The #1 way to avoid getting these viruses is not anti-virus software but education.
Almost all viruses are obtained by clicking on a link or attachment in a fake email. Emails are sent out by the millions in hopes of arriving in someones inbox at an opportune time to trick the receiving into clicking a link or opening an attached fie.
Some examples of this:
1)
A email arrives that appears to be from UPS which says they have had problems delivering a package and need to confirm your address and want you to click to confirm with UPS.COM but instead it instantly installs a virus.
2)
An email from Staples that says your order has been shipped and thanks you for your business. You wonder what order? since your didnt place one and click on the View Order link. You now have a virus.
3)
You get an email from your bank telling you that your monthly statement is ready. It looks exactly like the real one you get from your bank so you click to view the statement and you now have a virus instead.
4)
The video or picture or joke from your friend who sends things like that out all the time, except this time its because their computer got infected and the virus sent a fake joke email to everyone in their address book. So you click it thinking it will be another funny video but it turns out not to be funny at all.
So how do you avoid these viruses?
Simple. DONT CLICK LINKS IN EMAILS!

If your wondering what order shipped from Staples the go to www.staples.com and log in and check if its real.
Want to view your bank statement. Go to www.chase.com or your bank and log in and check it.
Dont click on the link in the emails!

Same goes for attachments. If you receive an email with an attachment, even from someone you know but were not expecting it, there is no message written with it or the message does not look real (e.g. It says something like "Check out this funny picture") then Dont Click On It.
You have to avoid the impulse click. Thats the feeling you get when you read something like "UPS has attempted to deliver a package 3 times, if you dont verify your delivery address we are returning it to the shipper". You read this and quickly think "Oh Geez, i need that package" and click before you think. Then you have a virus instead of your package.
When Can I click on a link or attachment?
When you requested it. Lets say you lost your password and requested a password reset from your bank. Moments later an email arrives with a link to reset your password. You requested it, your expect it, you know its real.
You know a colleague is going to send you a file or link to something, you expect it, you know what it is.

Rule is, if you were not expecting it, if its asking you to do something to "verify" information, If its a joke or for entertainment purposes, Dont click or open that file.
Following this very basic rule will make it very unlikely you will ever get a virus as this is the primary way they spread today. Praying on your "impulse click" or need to view that funny cat video. So be smart and always suspicious.

BobKaron
|

1 Comment
|

23 References
|