Bob Karon
President – R.K. Enterprises & Consulting, Inc. D/B/A Computer Solutions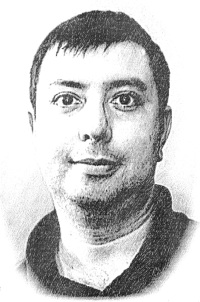 At age 12 he was tutoring fellow classmates on how to use their Apple and Texas Instrument computers in the classroom. As a teachers assistant, he solved computer problems and supervised other students.
Getting started with a single Commodore 64 at age 13, he quickly learned programmed skills that he put to use writing and hosting his own bulletin board service (BBS). While learning hacking and programming with a large Commodore 64 and Commodore 128 computer setup, he progressed rapidly.
He worked hard to make it into Lafayette High School. As one of the few High Schools outfitted with a computer studies program, he was accepted even though it was not his local zoned school. During that time he became very interested in all aspects of computers, from programming to repairs and networks. He was regularly called upon to solve computer problems, tutor other students and even more often – the teachers.
At age 16 he began working at a local computer store in Brooklyn where he quickly learned about computer assembly and repairs as well as business and sales. By age 18 he was managing the companies stores from time to time and doing private consulting work on the side for both personal and business customers.
After attending Staten Island college for a year and a half at night and on weekends, he decided he wanted to start his own company. After about a year of working independently he started R.K. Consulting in 1993. He provided all aspects of computer services including onsite repairs, consulting, training and sales. The business was incorporated into R.K. Enterprises & Consulting, Inc. in 1998.
Since then Bob Karon has been providing the solutions that businesses need. From technology consultant to network sales and support and Internet security.
Bob has been told many times over, that his training and communication skills are exceptional and easy to understand. He is capable of putting the most complex computer theories into plain English.
Just a few of our testamonials:
"Hiring Bob Karon to handle my companies IT needs proved to be a very smart business decision. Bob's skills are superior to the many people I have met who label themselves IT technicians. His approach to solving issues and providing recommendations to system alterations are based in real world applications with proven results. His systems work! And ultimately that is all that matters."

- Al B., Clarity Custom Inc.
"have worked with bob for well over 10 years without a hitch. does great work, returns calls/mail, goes to great lengths to accommodate . not only a nice guy but also trustworthy"

- Hank K., Visual Effects Inc.
"Bob Is always timely, always prepared and reasonable and extremely knowledgeable in his IT business."

- Richard B., Bray O&P
"Computer Solutions, and owner Bob Karon, is great to work with. Bob has always gone beyond what I had hoped, and exceeded our expectations. From helping us figure out hardware and software issues, to networking and service issues, Bob has always found a solution that works for us!"

- Bruce B., Lead Pastor WVCN
"As our corporation grew, it was clear to me that the most cost effective and efficient way to maintain our Information Technology Department was through an outside consultant. We brought in Computer Solutions to run our three corporate facilities in the Tri-State Area. With the support and up-to-date information we receive from Computer Solutions, I spend less time worrying about my IT infrastructure and more time continuing our corporate growth.
- Chris T., The Millennium Group
"Computer Solutions has been the most responsive computer service company we have ever used. Their service is exceptional. The attitude of the personnel is always cheerful and helpful while maintaining a professional demeanor. We truly could not survive without their support and assistance. I would recommend them to anyone seeking computer support."
- James M., TIF Fund Management LLC
"If it weren't for Computer Solutions and the excellent customer service and technical support Taylor Environmental Group, Inc. receives from them, our company wouldn't be able to survive the computer age. Computer Solutions provides Taylor Environmental Group, Inc with computer consulting service and has proven their professionalism, technical support and computer literacy in all our endeavors."
- Terry D., Taylor Environmental Group, Inc.