Thursday, September 6, 2012 at 2:44PM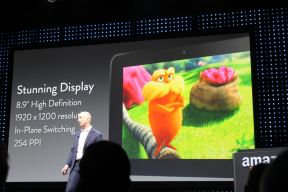 First is the Kindle Paperwhite for $119 ($179 with 3G). Its the first device with a Paperwhite display and 8 week battery life. If you like the origional e-ink display Kindles for reading, then this is the next version with improved speed, display clarity and other minor upgrades. The previous Kindle will remain around for $69.
The origional Kindle Fire will be upgraded to a 40% faster processor, double the RAM and longer battery life. The price dropes to $159 and ships Sept. 14th.
The big news is the new Kindle Fire HD in 7" and a 8.9" model. They have a TI OMAP 4470 Processor. The larger tablet is 8.8mm thick and weighs 20oz with 1920x1200 254ppi resolution. It has a HD front facing camera and dual stereo speakers with Dolby Digital Plus, 5GHz WiFi with 2 antennas for better Wifi that they say is 41% faster. The new Kindle Fire HDs will start at 16GB of storage instead of the old 8GB. The new Whispersync feature will allow you to listen to your books like an audiobook in the car for example but then go right to were it left off in the book for reading when you get home. Another cool feature for those with kids is the Time Limits feature. You can set it to allow, for example, hour of games, 1 hour of videos and unlimited reading so the kids don't sit with the device all day. Very nice for those of us whos kids use their tablets from dawn til dusk. You can also setup multiple profiles for multiple kids. Both models have HDMI out and bluetooth. the 7" Fire HD will cost $199 with 16GB (ships Sept. 14th)and the 8.9" with 16GB will be $299 (ships Sept. 20th)