Sunday, November 25, 2012 at 3:40PM
Microsoft Windows 8 has been out for a few weeks now and we have been running it for more than a few months at Computer Solutions on some test systems. So the questions now are what do we think about it and should you use it?
For starters, this is a big change. Bigger than windows 98 to Windows XP even. There are many differences from the moment you start it, to navigating around. It does not even have a START button. It's very intimidating to new users and if your someone who hates change you won't be happy. That said, once you use it for a while, like with most things, it becomes easier and a few weeks into it you won't have any problems.
First question you might ask is why did Microsoft do this? Well it wasn't thinking about the consumer and trying to make it better for them, that i can tell you! It was thinking of the future of Microsoft. They know they are not able to compete in the phone and tablet market with iPhones and Android right now (In case you didn't know there are Windows phones too) so they needed to plan for the future. Mobile devices like phones and tablets are were technology is going so Microsoft designed Windows 8 to be as similar as possible on all devices so you can go from Windows on your desktop to a Windows tablet to a Windows smartphone and if you could use one, you could use them all. This means Windows on the desktop computer had to change drastically. Windows 8 starts off when you load it in the Windows 8 interface which looks like their tablets and phones.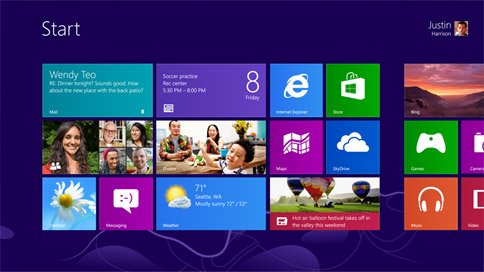 When you start Windows 8 and see the tile interface, it's very simple. You scroll through the little live squares and click on whatever you want. 'Live' means they can change and display information right there on the screen and in tiles.
Easy Right? Yes! When you go into any of these programs (or Apps) you can use it and they work great, but the problem for most people will be after that when it's not clear what to do to get out of it. Or get back to the main Windows screen. Or even how to turn off the computer!
This is where the learning begins. You can do many things in Windows 8 like drag the whole screen down to the bottom with the mouse to exit it. Or move you mouse to any corner of the screen to bring up a menu. There are also many easy WINDOWS key combinations where you can hold the Windows key and press letters to do many functions quiet easily. It all works well and makes sense but you will have to learn it all.
If you have used Windows XP, Vista, 2000 or 7, you could use any other quiet easily but Windows 8 means you have to retrain your brain for this new software.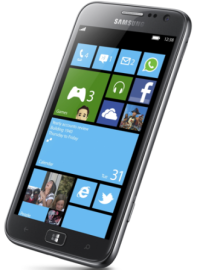 Microsoft hopes that once you get use to this new Windows, the next time you walk into a Verizon or AT&T store you will see a Windows smartphone and feel so comfortable with it you will buy one instead of that iPhone next to it.
They just might be right since any new computers you buy in a retail store will soon all be Windows 8 and you won't have a choice but to upgrade unless you have a custom computer ordered or built with Windows 7.
Once you force you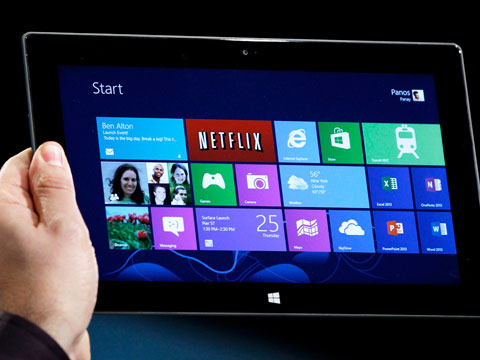 rself to learn Windows 8 then that Windows phone will look much less intimidating than any other phone.
Then that Windows tablet will start to look better than the iPad or Android tablet, because again...you will feel very comfortable with it.
Microsoft's thinking will work over time as we all upgrade to Windows 8 eventually.
Now there is the old style desktop as well in Windows 8 but it is a bit different with no Start button.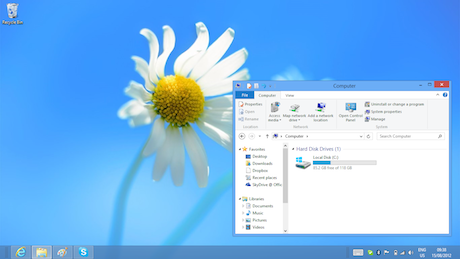 Unlike Apple who pushes forward and does not care if they alienate users or software companies, Microsoft has to think about being backwards compatible because of their extremely large user base and corporate customers. But for the first time they are thinking about the future and telling everyone to start getting use to the Tile interface and encouraging companies to write their programs in the new Tile format instead of the old desktop style apps.
But they can't just drop it completely so it is still there, will still run your previous software but for novice users will seem to be a pain to jump back and forth between the two interfaces. For experienced users it's no big deal. You can spend your day working in one or the other or even both but they certainly are pushing everything to move to the Tiles.
The thinking behind all this, meaning the Tiles, being similar on all devices (iPads, Smartphones, Tablets, etc.) is that everything in the computer world is moving towards touch, voice and simplicity. Gone will be the days of computers being for geeks or the novice user barely scratching the surface of what a computer can do. It makes sense for everything to get easier as they get more powerful.
So the answer to the question about should you move to Windows 8?
Upgrade your current computer? No. There is no need.
When you buy your next computer is will be Windows 8 and you will just have to learn it.
Is Windows 8 bad?
Not at all. It's different and not very clear on how to use it when sitting down for the first time as previous versions. But Microsoft being the giant they are with the market share they have, the world will move towards Windows 8 and in a year or two it will simply be the way it is. And if their strategy of unifying Windows desktops, tablets and phones works then they just might take over everything again or at least become the 3rd power in tablets and smartphones, an area they have almost no market share in right now.

BobKaron
|

1 Comment
|

23 References
|